04
BIO
Naturalmente Novella
Ingredienti genuini, freschi e di prima scelta: questo è il nostro Bio.
Ci impegniamo per offrirti il meglio, partendo dalla ricerca delle materie prime più pregiate.
Prendi il tuo vaso, ruota il tappo e…assapora la natura!
TUTTE LE REFERENZE BIO
Antipasto Bio
Capperi Bio in Aceto
Carciofi Conditi Bio
Olive Bella di Cerignola Bio
Olive Nere Denocciolate Bio
Olive Nere Intere Bio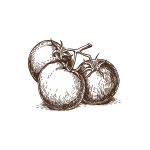 Pomodori Secchi Bio
Verdi Denocciolate Bio
SCARICA IL CATALOGO
Mediterranean bites
A rustic dish, inspired by farming traditions with a modern, delicious twist that evokes Mediterranean aromas and flavors.
READ MORE
Ingredients (serves 4):
4 chicken breasts

Thyme
2 garlic cloves
Novella Bio Pomodori Secchi
Novella Bio Olive
Novella Bio Capperi
Salt and pepper, to taste
EVOO
Potato flour or starch
Instructions
On a cutting board, prepare the chicken breasts and cut them into bite-size pieces. Dredge the pieces in the flour and then toss in a sieve to get rid of any excess flour.
Add a bit of olive oil to a pan, followed by the garlic cloves, sautéing and browning them slightly for a few minutes.
Next add the chicken bites: place them gently in the pan and cook over a low flame. Remove the garlic and, at the very end, add the thyme, Novella Bio Olive, the Novella Bio Pomodori Secchi cut into strips and the Novella Bio Capperi.
Now the Mediterranean bites are ready – everyone to the table!
Mise en place
A simple, authentic recipe like our Mediterranean bites goes perfectly with essential dishes, arranged on a light, delicately-hued tablecloth and tableware (think beige or ecru).
Novella's advice: to create delicate glaze from the pan sauce, don't forget to add a bit of water right before it's done cooking!