02
HERITAGE
Your gourmet pantry
Dedicated to those who constantly seek the extraordinary. Details matter, especially when it comes to food, turning the simplest dish into something unique. Heritage embodies our attention to detail, just for you.
ALL PRODUCTS HERITAGE
Rustic Artichoke Hearts "Carciogoloso"
Grilled Champignon Mushrooms
Borettane Onions
Red Onions Cooked in Passito Wine
Italian Giardiniera
Semidried Tomatoes "Pomodoroni"
DOWNLOAD THE CATALOG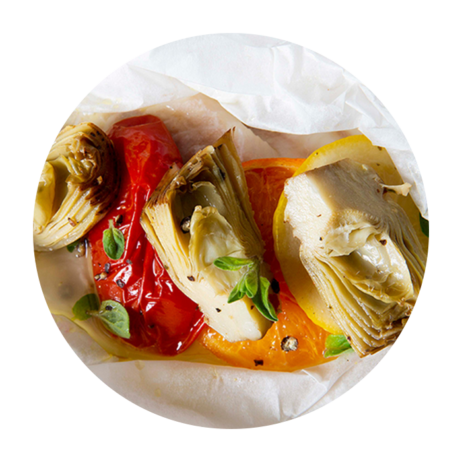 Baked grouper fillets
Need a fish dish guaranteed to impress friends and family? Try our baked grouper! This simple yet delicious, flavorful recipe will delight even the most demanding palates.
READ MORE
Ingredients (serves 4):
4 grouper fillets

1 jar Novella Heritage Carciogoloso
1 jar Novella Heritage Pomodorone Semi-secco
1 jar Novella Heritage Giardiniera
1 orange
1 lemon
Salt and pepper, to taste
Thyme, to taste
EVOO
Instructions
Pre-heat the oven to 180 °C (355 °F). Place the grouper fillets on parchment paper and set on a baking tray. Add the salt, pepper, thyme, strips of lemon and orange zest and a drizzle of olive oil. Close the parchment paper, folding it over and twisting the ends to seal the fish inside, creating a pouch. Place in the oven and bake for about 25 minutes.
In the meantime, drain a few Carciogoloso and Pomodorone Semi-Secco pieces.
Once the fillets are almost ready, remove from the oven and get rid of the zest. Add the Carciogoloso and Pomodorone Semi Secco and bake for a few more minutes.
Mise en place

Serve the grouper in the parchment paper pouch.
Novella's advice: serve this light, flavorful dish with our fresh Novella Heritage Giardiniera.