06
INTALIA
Designer flavor
From now on, culinary excellence has a new name: Intalia. Exclusive recipes, prime ingredients, and unique mixes designed to impress – you especially!
ALL PRODUCTS INTALIA
Artichoke Hearts "Pugliesi"
Italian Pinzimonio
Italian Antipasto
Borettane Onions in Modena I.G.P. Balsamic Vinegar
Zucchini with Curry
Termite di Bitetto Olives
Grilled Peppers
Sundried Cherry Tomatoes
Italian Giardiniera
Italian Pitted Olives Mix
Mixed Mushrooms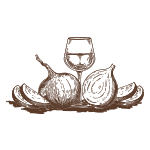 Red Onions Cooked in Passito Wine
Artichokes With Stem
Capers in Pinot Grigio Wine Vinegar
Rustic Artichoke Quarters
DOWNLOAD THE CATALOG
Rustic cheese board
For an aperitif or appetizer, everyone loves our rustic platter with Intalia Cipolle Rosse al Passito.
READ MORE
Ingredients (serves 4):
Whole grain crackers
Fresh Paglietta or Caprino cheese
Slightly-aged Monte Veronese cheese
Aged pecorino cheese
Gorgonzola (from cow or goat milk)

Intalia Red Onions Cooked in Passito Wine
Instructions
Cut the cheese into thin wedges or slices and place them on the tray, cutting board or plate.
Arrange the cheese, leaving enough space between each of them so as not to mix too many different flavors. Add a separate bowl of the Intalia Red Onions Cooked in Passito Wine. Serve with a bottle of red wine and a few whole grain crackers.
Mise en place

Feel free to experiment with this rustic platter, choosing the regional cheeses you prefer or coming up with a themed aperitif!
Novella's advice: arrange the different types of cheese on a wood cutting board, it will give your aperitif a rustic, authentic feel!