04
BIO
Naturally Novella
Genuine, fresh, high-quality organic ingredients: meet Novella Bio.
We're committed to offering nothing but the best, starting from the selection of pure, delicious ingredients.
Grab a jar, unscrew the lid and take a bite of nature!
ALL PRODUCTS BIO
Organic Hors d'Oeuvre
Organic Capers
Organic Grilled Artichokes Quarters
Organic Green Whole Cerignola Olives
Organic Black Pitted Olives
Organic Black Whole Olives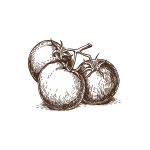 Organic Sundried Tomatoes
Organic Green Pitted Olives
DOWNLOAD THE CATALOG
Mediterranean bites
A rustic dish, inspired by farming traditions with a modern, delicious twist that evokes Mediterranean aromas and flavors.
READ MORE
Ingredients (serves 4):
4 chicken breasts

Thyme
2 garlic cloves
Novella Organic Sundried Tomatoes
Novella Organic Green Whole Cerignola Olives
Novella Organic Capers
Salt and pepper, to taste
EVOO
Potato flour or starch
Instructions
On a cutting board, prepare the chicken breasts and cut them into bite-size pieces. Dredge the pieces in the flour and then toss in a sieve to get rid of any excess flour.
Add a bit of olive oil to a pan, followed by the garlic cloves, sautéing and browning them slightly for a few minutes.
Next add the chicken bites: place them gently in the pan and cook over a low flame. Remove the garlic and, at the very end, add the thyme, Novella Organic Green Whole Cerignola Olives, the Novella Organic Sundried Tomatoes cut into strips and the Novella Organic Capers.
Now the Mediterranean bites are ready – everyone to the table!
Mise en place
A simple, authentic recipe like our Mediterranean bites goes perfectly with essential dishes, arranged on a light, delicately-hued tablecloth and tableware (think beige or ecru).
Novella's advice: to create delicate glaze from the pan sauce, don't forget to add a bit of water right before it's done cooking!